Northern Bay Farm
Is a no-till, no-spray market garden specializing in boutique, heirloom produce grown using organic methods. We also grow many species of native perennial plants in our effort to contribute to 'rewilding' the landscape and improving biodiversity by providing habitat and food for native fauna.
What We Do
Northern Bay Farm produces seasonal heirloom produce, nutrient-dense microgreens, and pasture raised eggs and poultry on around five acres of land.
We are a small boutique grower. We strive to offer the absolute highest-quality produce, grown sustainably, without the use of any chemicals. We employ regenerative agriculture techniques that aim revitalize the land and our surroundings.
Our farming model is guided by our core values and practices:
No-Till
We use organic compost to build raised beds and employ minimal-soil-disturbance practices in order to foster a biologically-active soil. Healthy, living soil is vital to the ecological processes that support natural, non-chemical food production.
No-Spray
No chemicals. No pesticides. Our focus is on correcting the underlying cause of pest problems by creating optimal soil conditions to strengthen the plant biologically, rather than treating the symptoms via the use of pesticides or by artificially boosting plant health with the use of inorganic fertilizers.
Give Back
We are committed to giving a portion of everything we produce directly back to the community. In 2021, we gladly supported The Magic Food Bus and Healthy Acadia. In 2022, we are committed to offering at least 10% of our entire harvest free-of-charge; either as donations or subsidized farm shares via our community partners. (read more)
Quality First
Quality must forever take precedence over quantity. We aim to provide the healthiest, most nutrient-dense produce possible by growing in a biologically active, fertile soil – and to deliver that food to customers at peak of freshness. Hyper-local food networks enable us to deliver to customers the day of harvest, or very soon after.
Where We Are
We are located in the town of Penobscot, Maine on the beautiful Blue Hill Peninsula. We steward approximately five acres of mixed hardwood forest and pasture located in zone 5b at 44ºN.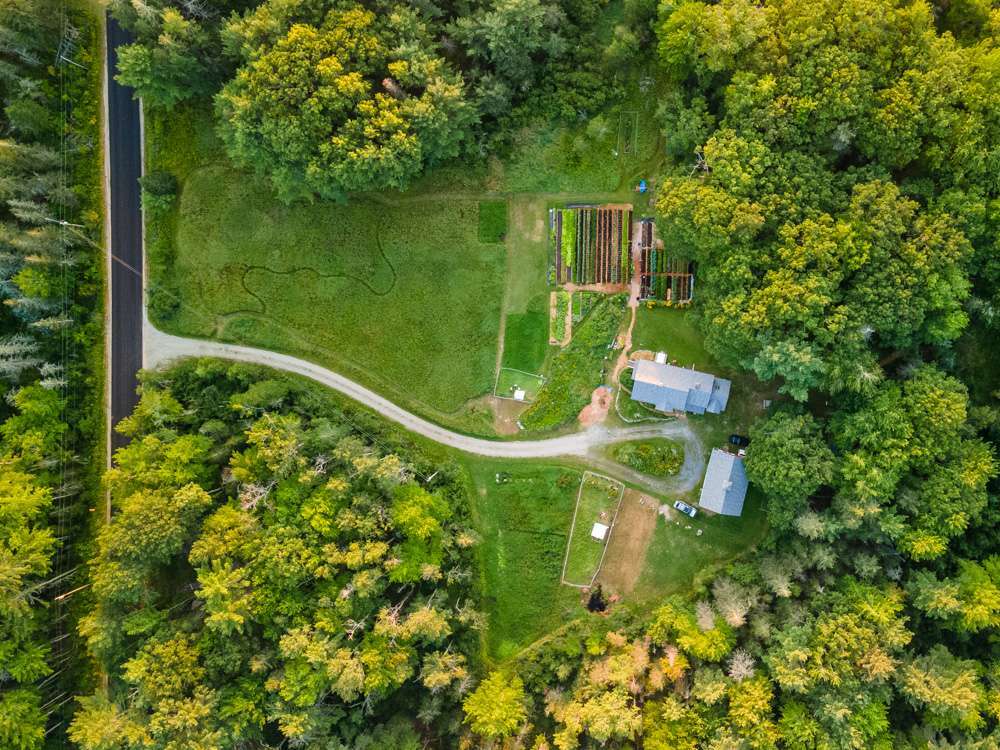 We farm on land previously cleared in the 1960s from mixed conifer forest and marshland with less than 2 inches of topsoil on average. The land is low-lying and suffers from very slow infiltration rate (high runoff potential) when thoroughly wet. The native soil is acidic (pH 4.4) and is primarily made up of Scantic Silt Loam, which is a class 4 (POOR) soil type consisting chiefly of clays that have a high shrink-swell potential, and a high water table.
Because of these natural limitations we have employed a no-till, raised bed system to produce our vegetable crops. We have successfully been able convert what was otherwise agriculturally-unusable land into highly productive vegetable beds by adding lime (to raise pH), lots of organic compost, seaweed from the nearby coast, and by growing green manures (cover-cropping).
We currently have around one quarter of an acre in total vegetable production, including 960 square feet of covered growing space, with plans to expand production to meet community demand over time.